Tip: Activate javascript to be able to use all functions of our website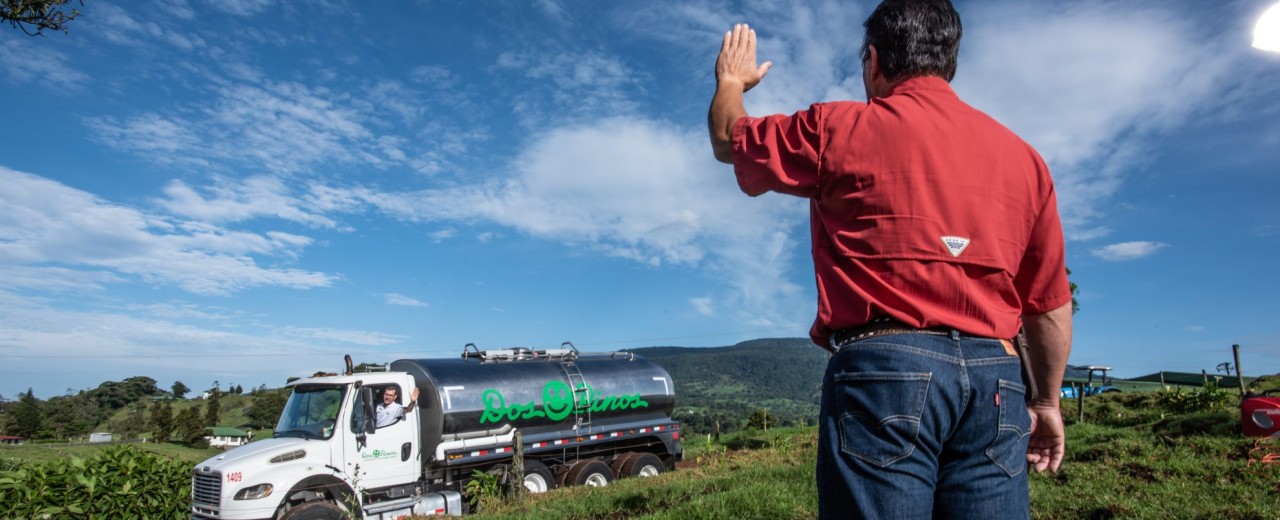 Resource-efficient agriculture in Costa Rica
With more than 1,300 cooperatively organised suppliers, "La Cooperativa de Productores de Leche Dos Pinos R.L." (Dos Pinos) is the largest milk producer in Costa Rica. Founded in 1947, the enterprise takes raw milk from its members and processes it into fresh milk, long-life milk and other dairy products. Dos Pinos products can be found in shops and supermarkets throughout Central America and the Caribbean. Most members are medium-sized local farmers with an average of ten hectares of land. In total, the cooperative comprises around 5,000 employees.
In order to sustainably strengthen its market position, Dos Pinos is making targeted investments in the resource efficiency of its logistics and production facilities and is strengthening the participation of its suppliers by providing agricultural inputs and services. Together with the European Financing Partners S.A., DEG supports the company's sustainable and responsible path to growth.
With a long-term loan of 19 million US dollars provided in 2021, DEG has been enabling the cooperative to improve its liquidity during this demanding pandemic and to drive forward the expansion of the company. The company is now investing in the modernisation and expansion of two production facilities as well as in the improvement of the cold chain infrastructure. The project is reinforced by DEG's advisory service "Business Support Services", which helps Dos Pinos to further increase the resource efficiency of its production processes. As an employer and cooperation partner, the company generates local income and is committed to local communities, for example in the areas of education, health and sustainable waste management.
With this long-term loan we support the expansion of a local enterprise that distinguishes itself through its innovation and environmental management and is committed to improve education, healthcare and sustainable waste management in its local communities.