Tip: Activate javascript to be able to use all functions of our website

Gender-lens investing
Women make significant contributions to the economy in their role as entrepreneurs, fund leaders, on farms, employees or through unpaid care work at home. Yet as far as decent jobs is concerned, women still do not have the same opportunities on the labour market or in management positions as men do. This is why DEG is committed to promoting greater participation of women in developing countries.
Potential of women
Investing in women means investing in the largest global market of the future and unlocking great economic potential. The objective of DEG's gender-lens investing strategy is to further promote and increase women's participation in the economy.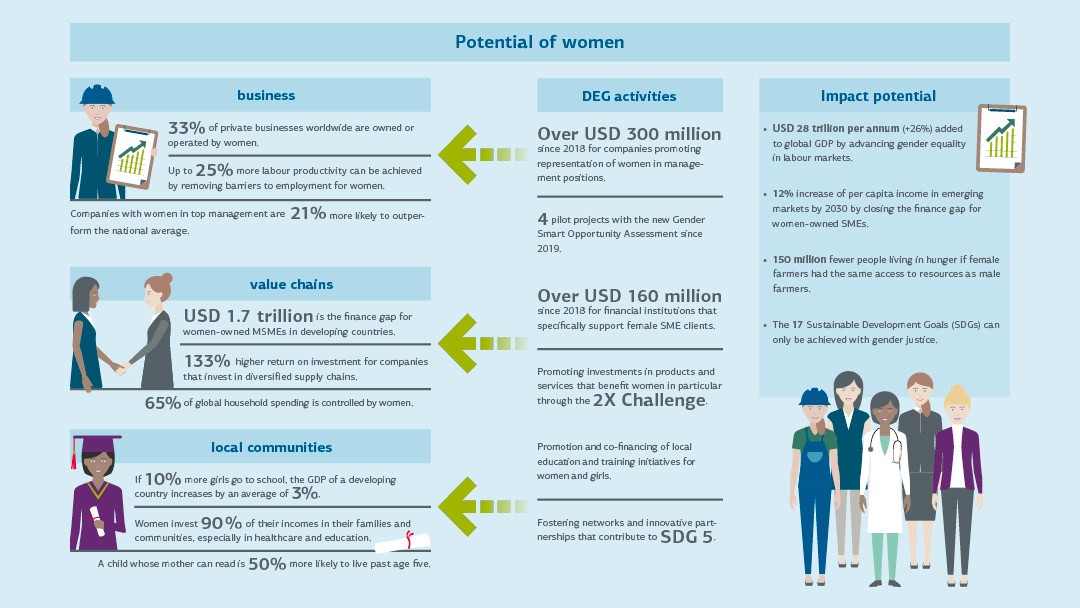 Gender Smart Opportunities Assessment
With its Gender Smart Opportunities Assessment, DEG supports its clients in the financial sector to develop suitable products and services specifically for the female target group. In this way, they can expand into markets untapped by competitors, increase their customer base and benefit from lower NPL and product switching rates.
Find out more about the experience of DEG's customers who have participated in the Gender Smart Opportunities Assessment: Case Study Report 2020 (PDF, 792 KB, non-accessible).
Women's empowerment: Recent DEG evaluation
Success stories of female entrepreneurs