Tip: Activate javascript to be able to use all functions of our website
News from 2023-02-24 / DEG
One year of war in Ukraine – How DEG has been committed to local people and businesses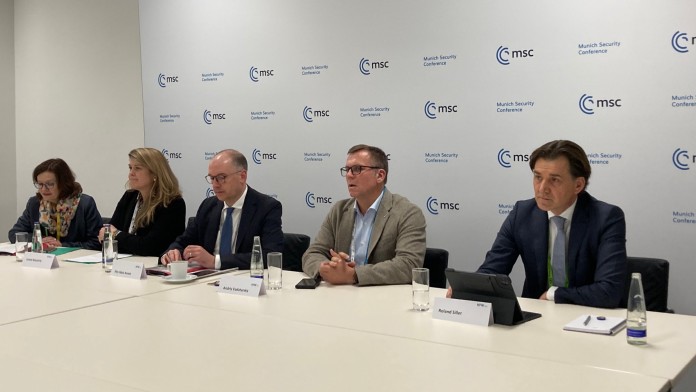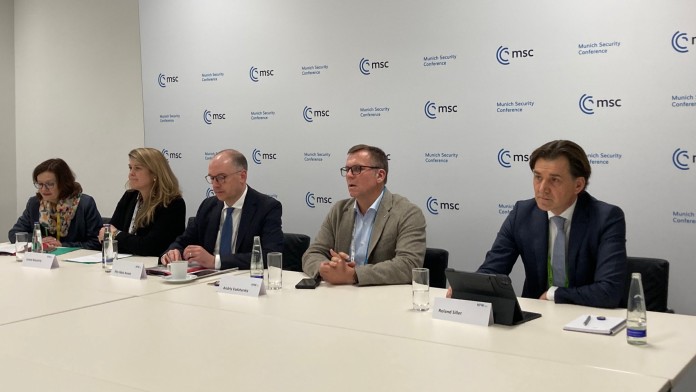 Ukrainian customers of DEG described their experiences at the Munich Security Conference 2023.
A year ago, Russia's war of aggression against Ukraine began. Since then, the country has been confronted with the most severe challenges. The ongoing war has also led to considerable political and economic consequences: for example, only a small amount of grain can now be exported from Ukraine, leading to higher prices and supply shortages in countries that bought grain from there. Developing countries in particular are threatened by increasing poverty and higher national debt.
Despite adverse circumstances, many Ukrainian private companies – including DEG customers – have been providing humanitarian aid on the ground since the war began. At the same time, they are struggling to keep their businesses going. DEG has been committed to supporting its Ukrainian customers since the beginning of the war. This includes supporting its customers' humanitarian aid programmes via its Business Support Services (BSS). This enables evacuation measures for employees and their families, psychological support and the provision of medicine and food for the local population.
Recently, in cooperation with the BMZ, Ukrainian customers of DEG described their experiences at the Munich Security Conference, where they pointed out the crucial role of local private entrepreneurs.
DEG first became active in Ukraine in the mid-90s. In recent years in particular, DEG has been able to strengthen cooperation and exchange with local companies – until the war began in February 2022. DEG customers include agricultural companies and Horizon Capital, an equity firm specialising in Ukraine: the latter provides growth capital to technology and export-oriented SMEs in Ukraine and Moldova. This will create local jobs and offer support to businesses affected by the war.
The signing ceremony for Horizon Capital Growth Fund IV in autumn 2022 was attended not only by initial investors such as DEG, IFC, EBRD and FMO, but also by President of Ukraine Volodymyr Zelenskyy. DEG had agreed early on to participate in this fund to the tune of 20 million US dollars.
Further information