Tip: Activate javascript to be able to use all functions of our website
News from 2022-06-02 / DEG
DEG helps Ukrainian companies provide humanitarian aid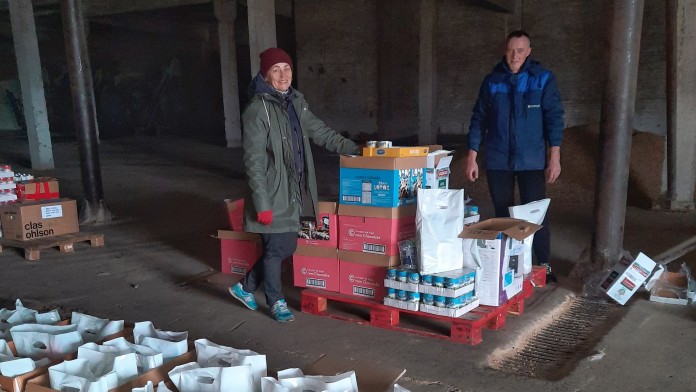 Food delivery by Astarta
The ongoing war against Ukraine has dreadful consequences for the people living there. Immediately after the attack started, Ukrainian customers of DEG and those with dependencies in the country have begun to locally supply humanitarian aid – in part a large scale and at their own expense. DEG is now helping its Ukrainian customers to provide humanitarian aid: in its interactions with local companies there, it allows swift aid through its Business Support Services (BSS).
Several more small-scale measures by DEG customers have already been supported with DEG subsidies. With DEG's help, three companies have been able to assume additional costs for their employees and their families – for example for food, everyday products and evacuation measures.
And DEG is also putting its weight behind larger humanitarian projects undertaken by its customers, having made up to EUR 1 million available from its own funds to help Ukraine in 2022.
Aid for displaced people and those in crisis areas
The more extensive humanitarian measures being undertaken by DEG customers include those of Ukrainian agricultural company Astarta and medical service provider Liki24. Astarta has set up eight help centres throughout Ukraine and provides displaced people there with food and psychological care. By the end of May, around 100,000 internally displaced people will already have benefited from this aid.
Right after the war broke out, online company Liki24 – which was founded in 2017 – began developing a physical and digital infrastructure for distributing donated medicaments in Ukraine. These are collected, sorted and prepared for dispatch in two logistics centres – one specially set up for this purpose in the western Ukrainian city of Khmelnytskyi as well as an existing centre in Kyiv. In this way, the company helps to provide medical care to people in crisis areas.
DEG made available BSS funds in the amount of up to EUR 200,000 to provide fast, direct aid to people in need. DEG is also working on further collaborations with its Ukrainian customers, regardless of the difficult conditions and reachability.
Further information on our Business Support Services: