Tip: Activate javascript to be able to use all functions of our website
News from 2022-03-30 / DEG
Lit.COLOGNE 2022: Abigail Assor gives reading at DEG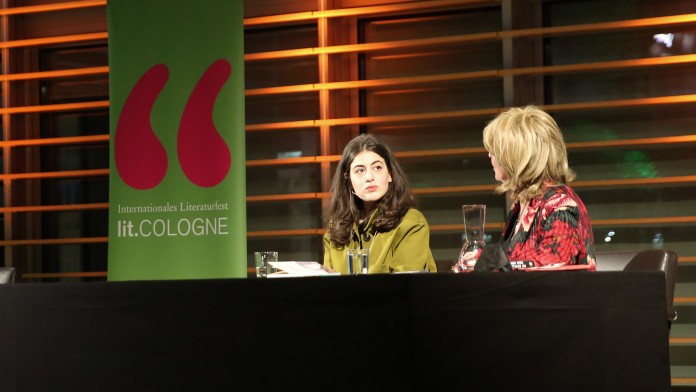 The debut novel by Abigail Assor, As Rich as the King, which received enthusiastic reviews from the French press, was the focus of a reading at DEG during the international literature festival Lit.COLOGNE 2022. The book recounts the rise and fall of a young woman in Casablanca in the 1990s.
The book's title refers to the future husband of Sarah, a 16-year-old French girl living in poverty – a dream that collides harshly with the realities of Morocco. The taut narrative describes the painful realisation that patriarchal oppression was also lurking behind the supposed happiness of upper-class life.
The author, who grew up in Casablanca, shaped her view of social reality while studying philosophy and sociology. As Rich as the King has already been translated into seven languages and was shortlisted for the Prix Goncourt du Premier Roman, an award for debut novels.
First in-person reading since 2019
This year's Lit.COLOGNE was held in person for the first time since the festival was cancelled owing to the coronavirus in 2020 and held in digital form in 2021. Some 250 guests attended the cultural exchange at the DEG atrium. As well as the author herself, many people came to see German actress Bibiana Beglau, who gave a powerful reading of the German translation of the novel, transporting the audience directly to the heart of the story.
Politician Angela Spizig, a familiar name in the cultural scene, moderated the evening's event in French and German. When she asked Abigail Assor what she missed most about Morocco, the author replied: "The atmosphere, the food, the conviviality". However, she added that she was not a nostalgic person and that she revisited the past more effectively by writing, preferring to illustrate it rather than explain it. Her story, which is structured like a fairy tale, shines a spotlight on social injustice and the role of women in Morocco. As she puts it: "If you love a country, you have the right to criticise and challenge it".