Tip: Activate javascript to be able to use all functions of our website
News from 2021-10-25 / DEG
DEG supports electric mobility in Uganda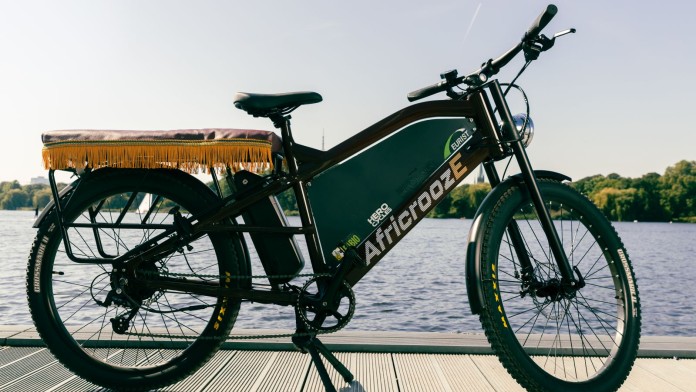 Changing the way we travel and commute is an important issue – not just for Germany. In Africa too, planners are thinking about how to handle the increasing traffic. More and more people are using cars or motorbikes for private transportation to get around the continent's growing metropolises. One novel means of transportation, however, has so far been neglected: the electric bicycle. This is something a German-Ugandan initiative, supported by DEG, seeks to change. Through a pilot project, 100 electric bicycles that were specifically developed for the African market are now being deployed in Uganda.
The "AfricroozE", as the bike has been named, does have prominent supporters: in the latest edition of KfW Stories, Jürgen Perschon, entrepreneur and founder of the NGO Eurist, and German actor Bjarne Mädel explain the idea behind the bike and their initiative. These solar-powered electric bicycles, they say, are a significant building block for more sustainable transportation with great potential as a transport for people and goods. With a speed of 30 km/h and a range of up to 50 kilometres, these electric bicycles do present a viable alternative to conventional transportation that is at the same time economical and emission-free. The initiative plans to bring up to 3,000 e-bikes to the streets of East Africa by 2022.
The NGOs Eurist from Hamburg and the First African Bicycle Information Organization (FABIO) are jointly advancing the venture together with the bicycle manufacturer Hero Cycles Ltd. DEG is co-financing the pilot project with 50 per cent via the develoPPP programme with funds of the German Federal Ministry for Economic Cooperation and Development (BMZ).
Learn how the "AfricroozE" is improving access to sustainable mobility in the newest edition of KfW Stories: Climate protection – Powered by the sun