Tip: Activate javascript to be able to use all functions of our website
News from 2014-12-16 / DEG
Support for refugees
"Three or four times already", mentions Muhammad when asked how often he has been to the top of Cologne cathedral, savouring the view over his new home town. Originally from Pakistan, his eleven-month flight took him through Iran, Turkey, Greece, Italy and France, before finally arriving in Cologne where he has now found a new home.
"PLAN B" is the name of the place, set up by the Cologne-based youth service organisation "Auf Achse". DEG has supported "Auf Achse" for many years. The aim of "PLAN B" is to offer a new home to unaccompanied refugee minors from crisis areas and war zones – the first residents of "PLAN B" moved in in October. Meanwhile, the facility houses eight young men from Afghanistan, Eritrea, India, Pakistan and Syria, each with their own bedroom and shared kitchens and bathrooms.
Internship at DEG
"The residents of the new facility are mainly from DEG's partner countries. We therefore feel it's especially important to support them as they gain a foothold in our society," says Philipp Kreutz, member of DEG's Management Board. To live up to its promise, DEG is offering an internship in the Facility Management/Inhouse Services department – symbolically handed over as a spanner packed in Christmas wrapping paper. In addition to this, DEG has pledged "PLAN B" a donation of EUR 10,000, plus EUR 3,400 from the sales of old DEG mobile telephones.
The "PLAN B" residents are 16 years of age or older, and arrived in Germany unaccompanied. A number of them finished their education in their home country, while others can hardly read or write. Homesickness, minimal contact to their families and the ordeal experienced during their flight are particular challenges the young men face. The "Auf Achse" team is supporting the young people in learning German, gaining work experience and settling into their new home country.
DEG and "Auf Achse" have enjoyed a partnership for almost ten years. DEG has supported various youth services since 2005 as part of its social responsibility activities, for example through sponsoring the advisory service bus "B.O.J.E.", a drop-in point for young people living in the Cologne main train station area, and the "UPSTAIRS" facility where youth in acute crisis situations can live for brief periods. DEG also regularly sends apprentices to spend a short period working in "Auf Achse's" administrative office.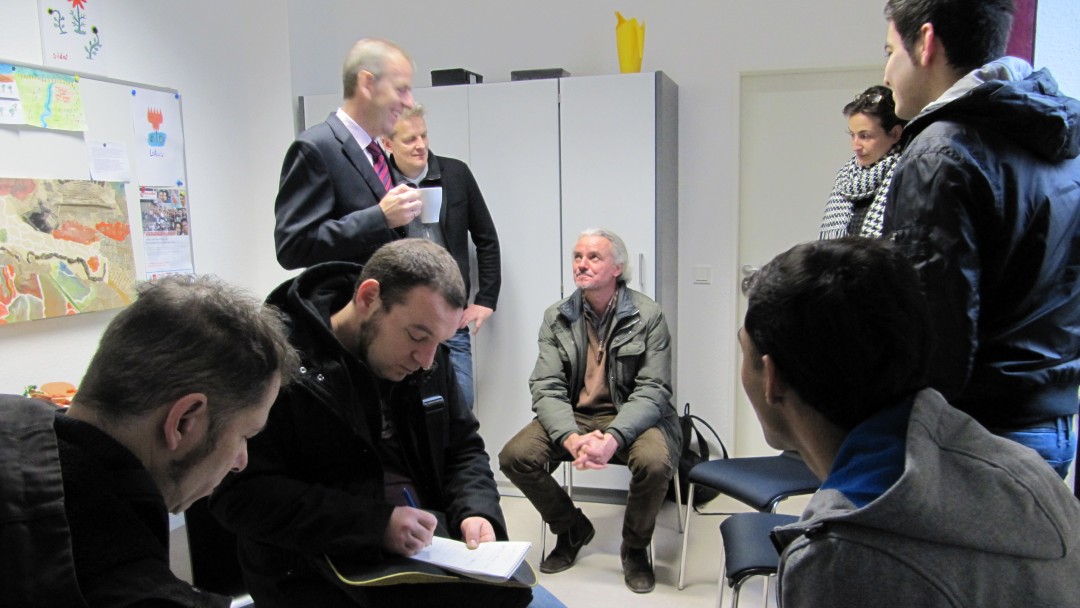 Two residents of "PLAN B" in an interview.