Tip: Activate javascript to be able to use all functions of our website
News from 2021-01-06 / DEG
Shoe production in Kenya provides career prospects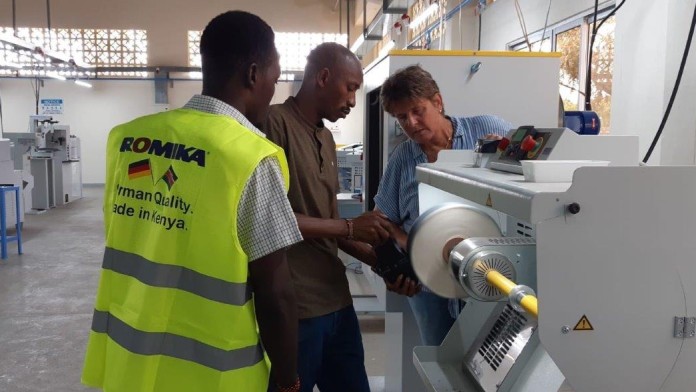 Kenya exports 90 percent of its rawhide. Even though the country has an established tanning industry, hardly any value is added within the country itself. One major factor contributing to this situation is a lack of qualified personnel, which in turn is due to extremely poor training structures.
This is where a project launched by German family-run shoe manufacturer Josef Seibel Holding GmbH comes in. Josef Seibel set up a shoe production facility in the coastal town of Ukunda, not far from Mombasa, in one of the poorest, most structurally weak regions of the country. Here, high-grade leather shoes for school uniforms have been produced since November and sold in Kenya and other East African countries.
As well as the production facility, the company has set up its own training workshop. The training programme here is run by local people who have been certified as trainers in Germany. After 12 to 18 months of hands-on training, young people qualify as certified leather processors and industrial shoemakers. The training, which is carried out in cooperation with the Pirmasens Chamber of Industry and Commerce in Germany and the Chamber of Commerce Abroad in Nairobi, is geared towards school-leavers, particularly young women. In future, between 20 and 30 traineeships are to be created every year, together with two entry-level positions for machine mechanics and IT specialists with intensive hands-on training.
After qualifying, the skilled workers can remain with the company or, with the assistance of Josef Seibel Africa, are placed with other companies in the leather-processing or related industries via the Mekaela Academies network. This allows them to generate a secure long-term income while also helping to improve the quality of leather production in the country as a whole. Another advantage is that the new traineeships create training structures in a region that previously had hardly any employment opportunities to speak of.
DEG is co-financing this training programme with funding from the Federal Ministry for Economic Cooperation and Development's (BMZ) develoPPP.de programme. This programme is geared towards companies implementing developmentally effective projects in a developing or emerging-market country, which can be co-financed on a pro rata basis with up to 2 million euros.
Further information