Tip: Activate javascript to be able to use all functions of our website
Our History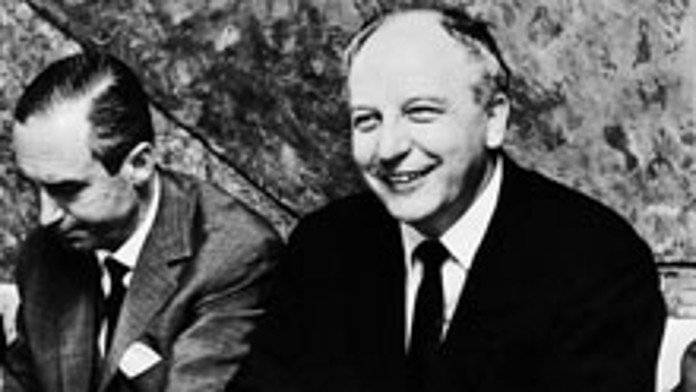 The then Federal Minister for Economic Co-operation, Walter Scheel, at the first press conference held by DEG.
How it started
What today is called DEG is founded as the "German Association for Economic Cooperation" in Cologne on 14 September 1962. The concept was developed by Kai-Uwe von Hassel, Minister President of Schleswig-Holstein at the time, together with Walter Scheel, Germany's first minister for development aid. Both have already been actively involved in development policy since the 1950s.
The idea of the founders: the federal corporation DEG is to support the nations of the "third world", as it is called at the time, in building the private sector and to assist German medium-sized companies as they move into foreign markets. Initially the focus is on Africa. The first project is the foundation of an association for financing small production plants together with the Ministry of Economic Affairs in Tanzania. In the beginning, DEG in general focuses on the support of small and medium-sized companies in the processing industry.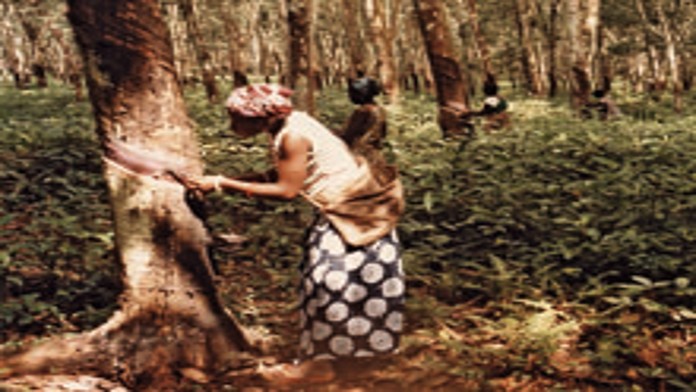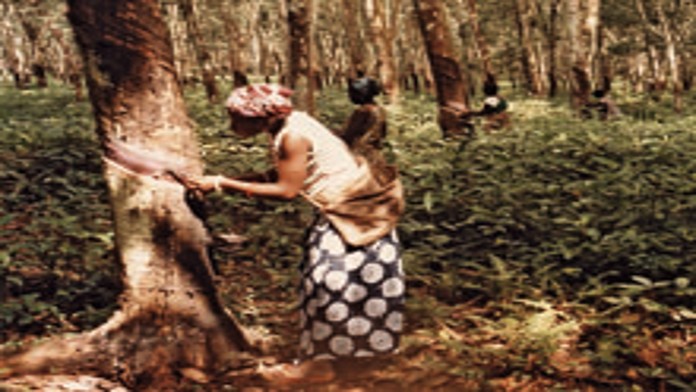 During the first years, DEG's financings focused on investments in agriculture and manufacturing
Demonstrating persistance
During the first ten years, DEG invests 171 million Deutsche Marks in the foundation of 120 enterprises in 40 countries – not yet at its own risk, but with funds from the Federal Ministry for Economic Cooperation. In the early days 30 DEG employees work at Habsburgerring in Cologne.
The early years prove difficult, and DEG has to demonstrate patience and persistence in accomplishing its task. The financing format imposed by the federal ministry is that of joint ventures with German companies. To this end local partners have to be found.
This is a demanding concept, as the general circumstances in most partner nations are difficult. DEG remains steadfast and inventive: it increasingly funds the establishment of small and medium-sized companies through holdings in local development banks, thus creating jobs and income for more and more people: by 1982, over 125,000 jobs have been created in 64 countries.
Tapping new markets
Due to the worldwide recession at the beginning of the 1980s, public funds become scarce. DEG reacts to this situation with a major reform: it turns from a sponsor of development into a finance institution, with international bank standards serving as guidelines in this process. In order to ensure the profitability of its projects, it also develops its own valuation methods.
From now on, it finances loans at its own risk, increasingly raising funds in the capital market to this end. It also taps new markets: without the federal government's requirement that only projects can be supported where German companies are involved, DEG develops new business objectives until the end of the 1990s. It gets involved in south-south cooperation and infrastructure projects – since 1990 also in the transformation countries of Eastern Europe and the former Soviet Union. There DEG accompanies the transition from planned to market economy by extending credit to local banks and providing direct funds to German and local companies. And it establishes its own offices in the partner countries in order to provide better local support. These efforts pay off. At the end of the 1990s, DEG commits the equivalent of approx. EUR 360 million in new funds per year.
DEG as a member of KfW banking group
In 2001, KfW acquires DEG – an important step towards pooling all activities within the field of German development cooperation. Since then, DEG has been a member of KfW Group and thus part of its international activities. DEG benefits considerably from being a part of KfW: Thanks to KfW's credit rating, it gets better terms on the capital market, and the joint use of more than 70 representative offices abroad facilitates the local support for customers. These positive effects give a fresh boost to private sector promotion.
In late 2007, approximately 380 employees work at DEG, distributed over three locations in the west of Cologne. In that year, DEG commits for the first time more than EUR 1 billion for entrepreneurial investments. It needs more room and wants to gain in visibility, as DEG is less well-known in Cologne than in the rest of the world. By 2008, DEG's new central office is built in Kämmergasse, only 250 meters away from the Neumarkt and the city's central shopping area, and with view of the Cologne Cathedral. The move to the new building and its opening take place in September 2008.
And the company keeps growing: In 2017, DEG inaugurates its extension building, located just across from its main building.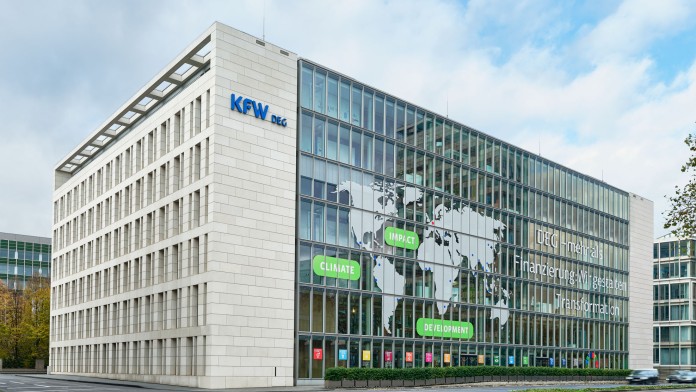 The headquarter of DEG: A modern climate friendly office building in the centre of Cologne.
60 years of experience – refocused strategy
DEG now has 60 years of experience in financing and advising private companies in developing markets. In 2021, it refocuses its strategy, setting clearly defined objectives: Shaping transformation in partnership with forward-looking companies and enabling even more investments with development impact as well as climate-friendly investments. DEG's portfolio is currently worth around EUR 9.2 billion, financing investments made by enterprises in approximately 80 countries.
Today DEG has around 650 employees, who invest a great deal of commitment and expertise. They work not only in Cologne, but also in one of DEG's 18 offices around the globe.